I want you to love your wedding photos as much as you love each other!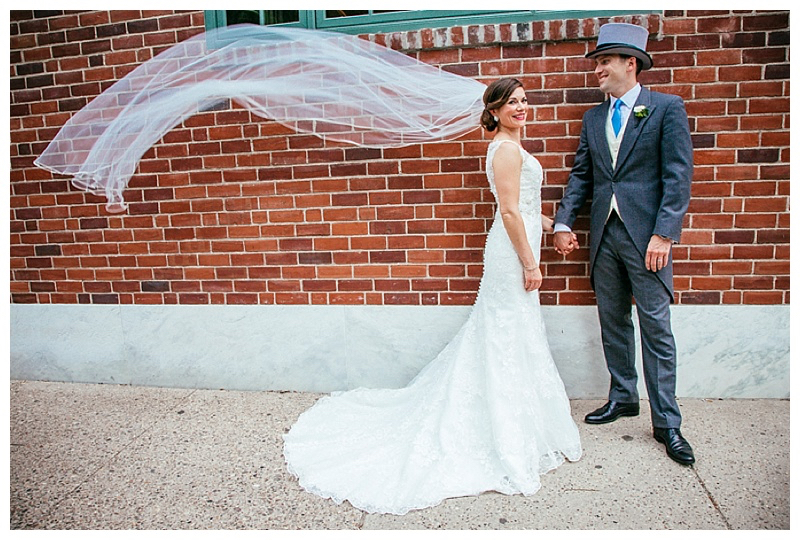 So I've put together a list of tips and tricks that if followed will result in extra spectacular photographs.
There are so many other elements to your day I could write about! maybe I will at some point but I felt these were the most important right now…and really in short – this article all about the light! Its the light that brings the love!
So here's 7 things every bride and groom should consider!
Morning preparations
This is one of my favourite times of day as I capture your dress hanging up along with all the little details such as shoes, perfume, jewellery, the nervous excitement etc, so have a think about the venue you choose to get ready in, there's nothing worse than a tiny dark bedroom with an un-made bed and scattered clothes and mess everywhere. I've often wasted an hour tidying up, making beds and struggling to find a good angle amongst the clutter.
If you want lovely morning prep shots then its really worth considering these things in advance. Thus said…nobody expects a room to be perfectly tidy when there's a number of girls getting ready, but a quick tidy up and you'll be surprised how much difference it makes.
Also try to avoid rooms that need artificial lights turned on, some hotel rooms can be really dark so get those curtains wide open. (Artificial / fluorescent lights, even mixed with natural light) can make skin tones look a bit strange in photos. Natural light when available is way more flattering.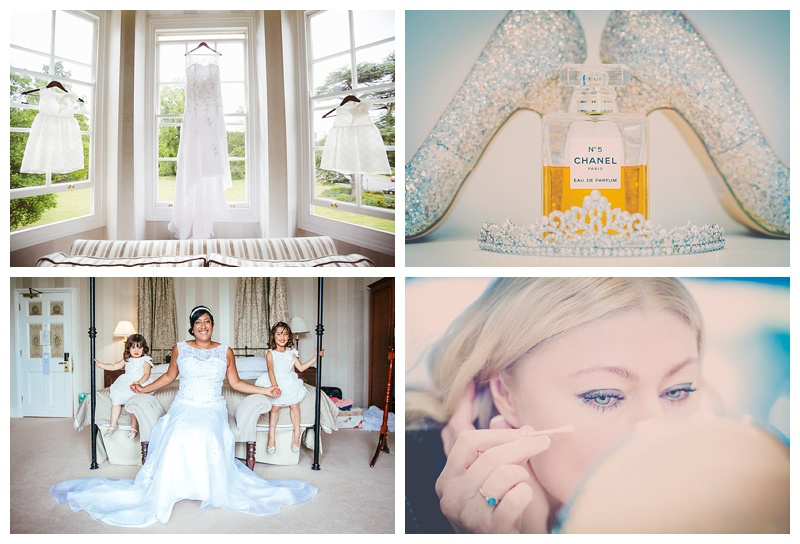 Consider the light and the timings of your day.
Obviously summer time isn't much of an issue, however after October, the light starts to fade around 3pm which can impact on your portraits session after the ceremony, unless you want them inside the venue, but again you should think about the kind of style you'd like for those images. This includes the line ups, I usually recommend no more that 5 or 6 official line ups. This takes around 20 mins, so imagine how long 10 or more would take!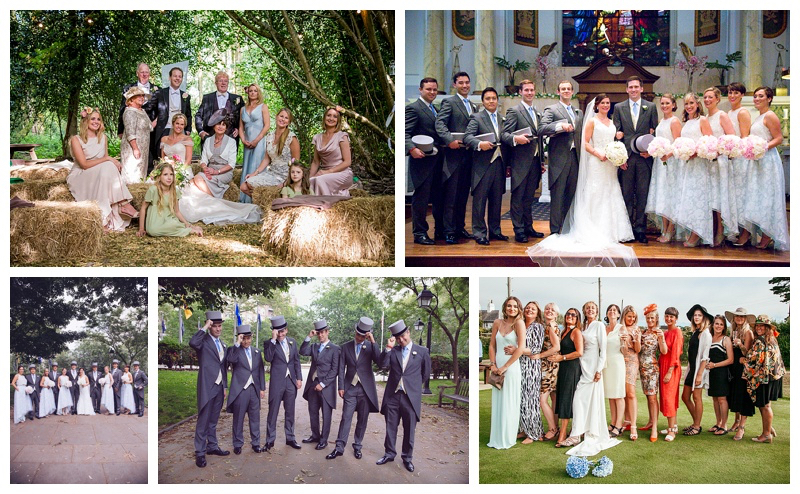 Remember, you can always factor in those 'uni mates' at the reception or during the evening.

      Styling your day
There are all sorts of things you can do to help create a great impact on your wedding photography. I'm a huge fan of paper decorations and all things hand made, in fact the more 'stuff' the better! There's nothing more boring than entering a dark dim lit room in a hotel or golf club with plain ceilings and not much decoration on the tables. If you plan in advance, then your decorations can give that extra wow factor and it doesn't have to cost you a bean!

I'm also a big fan of bridesmaids holding flowers as well as the bride, floral head gear, massive round balloons, bow ties for guys and anything unusual and pretty!
I believe weddings should reflect a bit of personality, you don't want your day to look like anyone else's, you are unique and your wedding should be too, so planning your styling is an important factor.

The reception
I've shot many weddings in a variety of venues all with different lighting and styles. Barns are fantastic but can often be poorly lit. Of course there is always flash photography and high ISO (tech camera speak), I personally prefer not to use flash unless I really have no other option, so this means you can expect a little 'grain' on your images in darker venues, this is not a bad thing at all as it gives that 'Old skool film' vintage feel rather than a pin sharp crystal clear image.

The Cake
If you are also having a 'cutting the cake' photo, it's a good idea to stage this in a lighter part of the room, away from a dark corner with fire extinguishers and exit signs.

As well as decoration, props for the evening can add an element of fun too, such as hats, silly glasses, or classy masquerade style eyewear.

First Dance
First Dances are usually the last part of my day with you, the final chance to capture the two of you together, I do use a flash for this part, I sometimes use two flashes to create a backlight and a golden glow around you. However if you are considering a smoke machine / dry ice for your first dance – this can be a challenge for your photographer, (think about driving in the fog with full beam) that's right, the flash bounces right off the fog and illuminates it more than you, especially if the fog starts to float right up instead of staying at ground level. I once experienced this with no warning from the couple that they were having a smoke machine so its good to communicate this first so we are more prepared.
Some couples plan a first dance routine and some don't, either way I often ask my couples to have a look at first dance pictures to see what makes a stunning shot, black and white checkered floors are amazing for this, plus if you're not planning an actual 'dance routine' as such, consider throwing in a few 'dips' or 'twirls' so you can maximize the opportunity for great shots. Even if your bride doesn't know you're about to do it – its worth it just for the look on her face!

   Photoshop / processing

Many couples assume that I use Photoshop and that its easy to just "photoshop that out / in later", or "make me look thinner / taller / younger" etc…..its not what I do, I capture real life as it happens…warts n all, well maybe no warts but documentary / reportage style with a creative twist, anything that captures the story of your day! Although I can smooth out skin tones and blemishes where necessary – there are limits to what I can and will do….here's why:
I take a lot of shots during the day, a lot!  and the time it would take to individually photoshop, arms, chins, eyes, hair, people, objects etc would be an incredible amount and not cost effective either. Of course I choose a selection to really spend extra time working on and perfecting, but the reality is that I just couldn't spend that time on every single image, and to keep things looking consistent and realistic I tend to process in a way that enhances what is already a very high standard image in terms of light, colour and composition, therefore no photoshop needed. I use Lightroom instead (a pro photography software by adobe.)
'Overall trust' of your photographer from the first meeting is vital, so the need for photo-shopping or over processing images should be minimal.
I hope these tips and tricks have given you a little insight and more understanding on how you can play a big part in the way your photos turn out.
With a bit of planning in advance you can make a big difference.
I'm really looking forward to working with you and being a part of your amazing day, planning is key and I'm here to help you with any plans and ideas you have, just ask me anything and I'll be happy to advise.
Carly x